Princess Diana Beanie Baby Bear 1st Ed #1 1997 PVC China MWMT True History Here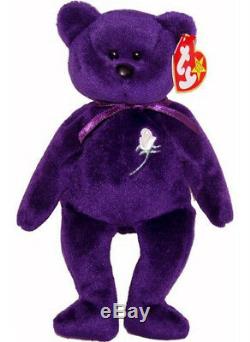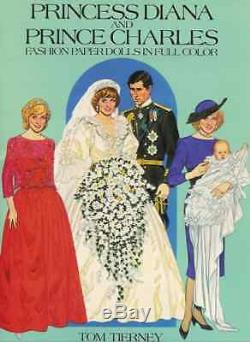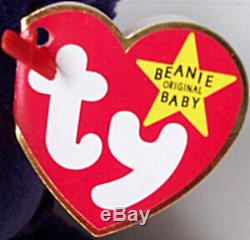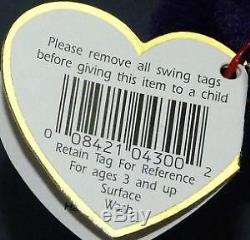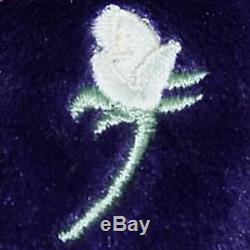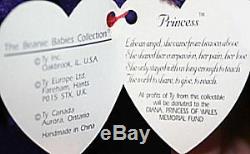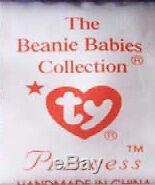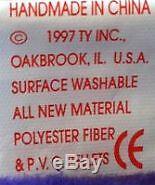 Get Vendio Gallery - Now FREE! Princess Diana Beanie Baby Bear 1st Edition #1. 1997 PVC China MWMT Rare Lot. READ THE TRUE HISTORY OF THE TY PRINCESS BEANIE BEAR. Please Scroll Down For The Entire History..
PRINCESS DIANA BEANIE BEAR FIRST EDITION 1997 PVC MINTY MINT WITH MINT TAGS ORIGINAL AUTHENTIC THE REAL NUMBER ONE! THIS FIRST EDITION BEANIE BEAR HAS THE FOLLOWING. Beautiful Royal Purple Polyester lush & plush fur with matching Purple Ribbon. Bright Green Stem White Rose. Red & White PVC Tush Tag with Red Star.
IMPORTANT: PVC pellets were the first pellets! They were replaced with PE pellets. Therefore the PVC Tush Tags were created first & were the first Princess Beanie Babies made. Sellers with PE tush tags are incorrect.
Please read the Princess Beanie History below for all the correct information on every detail including photo proof. Made In China indicated on the Swing Tag. Size 9 Top of the ears to bottom of the feet. Retired December 1997 That's Correct..
Extremely Limited Edition This is the very first Princess Beanie Edition. Minty Mint Condition For Top Dollar Investment. All #1 First Editions should always have the above details. PLEASE READ THE PRINCESS BEANIE HISTORY BELOW..
MESSAGE INSIDE SWING TAG Like an angel, she came from heaven above She shared her compassion, her pain, her love She only stayed with us long enough to teach The world to share, to give, to reach. CONDITION MWMT Minty Mint With Minty Mint Tags!!!
This Beanie Baby comes with a tag protector on the Swing Tag. PLEASE SCROLL DOWN FOR MORE PICs.
BEWARE OF THE TUSH TAGS WITH STAMPED NUMBERS. Princess Diana Beanie Baby Bears with a number inside the Tush Tags are the worthless mass produced bears that exceed 40 million made! PLEASE DO NOT BE FOOLED BY GREEDY SELLERS giving false information about these bears.
The stamped numbers inside these tush tags represent Factory Control Numbers or Assembly Line Numbers & NOTHING ELSE. THERE WAS NEVER A FIRST EDITION BEANIE EVER MADE WITH A STAMPED NUMBER THAT MEANT IT WAS A NUMBERED EDITION BEANIE!! AND the stamped worthless Princess Diana Beanie Baby Bear will also have the Heart/Swing tag with the very noticeable double split in the paragraph above Diana, Princess Of Wales Memorial Fund, like the 5th Edition PD Beanie Bear. DENOTING THIS IS THE DREADED 6TH EDITION BEAR WITH A STAMPED FACTORY ASSEMBLY LINE NUMBER!! NUMBERS DENOTING MASS PRODUCED PD BEANIE BABIES.
400, 401, 403, 416, 418, 425, 433, 450, 464, 472, 474, 477, 481... I've personally seen several 481s at a local brick & mortar toy store.
PRINCESS DIANA 1985 PAPER DOLLS ORIGINAL AUTHENTIC. Gorgeous official replicas of their outfits for various royal & informal occasions. Includes Princess Di's spectacular wedding gown &. Charming illustrations of Diana with her sons, Prince William & Prince Harry's royal Christening. Size 12.3" x 9.3". Never Been Cut Beautiful & Minty Mint. JUDE CHILDREN'S RESEARCH HOSPITAL See Above...
PRINCESS DIANA BEANIE BEARS SHOULD BE AUCTIONED FOR CHARITY PAY IT FORWARD A GIVING HEART IS A PURE HEART.. Princess Diana's philanthropic endeavors greatly endeared Diana to the hearts of the world & live on as her legacy. The Diana Princess of Wales Memorial Fund was established in her honor.
She was the People's Princess. Her life began in a fairytale fashion; yet, she rose to demonstrate to the world that one can overcome adversity & leave a meaningful legacy. She restored a sense of mission & humanity to the monarchy of England as well as the world. Ty Beanie Baby'Princess' the bear was announced on October 1997 & issued in December 1997 as a charity release for the Princess Diana of Wales Memorial Fund. All of Ty Inc's profits from the bear were donated to the fund. The Princess Beanie Baby was retired on April 13, 1999. PVC PELLETS VS PE PELLETS. The pellet issue helps to define which came first. Stands for Polyvinylchloride & P. Ty stopped using PVC pellets in favor of using PE pellets as these were considered to be more environmentally friendly. Beanies with PVC pellets tend to be more rare & therefore more valuable.
PVC WAS INVENTED FIRST DUH! The information is vital to the truth about the extreme rarity of the real #1 PVC's. There would never be PE Beanies of any kind if Ty wasn't forced by Green Peace to change over from PVC to PE!!!
The only thing that matter's is what is on the Tush Tag, not some bogus CIA/FBI test to see what the Beanies are filled with. BRIGHT GREEN STEM VS PALE GREEN STEM. The bright green stems are on the first two editions. The pale green stems are on the later editions of the Princess Beanie Babies. SIX EDITIONS WERE RELEASED IN THIS ORDER The Edition PICs are a Historical Timeline Reference..
#1 First Edition Swing Tag & China PVC Tush Tag Retired 1997. In December 1997 the PE pellets replaced the PVC pellets. The second edition PE Tush Tag was created.
The PVC Tush Tag came first & the PE Tush Tag came second. The Beanie Vendors received both PVC & PE bears for sale at the same time in January 1998. Ty knew that the PVC Princess Beanie Bear was so rare that they only allowed one PVC Bear 1st Edition to be included with eleven PE Bear 2nd Editions for each Beanie Vendor to sell. That's why there are so many PE Bears for sale & only a handful of PVC Bears for investment.
#2 Second Edition Swing Tag & China PE Tush Tag Retired 1998. #3 Third Edition Swing Tag & Indonesia PVC Tush Tag Retired 1998.
#4 Fourth Edition Swing Tag & Indonesia PE Tush Tag Retired 1998 (Top of PE Tush Tag says Handmade In Indonesia). #5 Fifth Edition Swing Tag & China PE Tush Tag Retired 1999. The Swing Tag on the right side has a double space above Diana, Princess Of Wales Memorial Fund. This double space appears on all Fifth Editions.
The Fifth Edition was the issue that started the mass production. These 5th Editions do not have the dreaded stamped numbers which denote assembly line or factory control numbers.
UPDATED PD BEANIE BABY INFORMATION THE DREADED 6TH EDITION STAMPED NUMBERS #6 Six Edition Same As The 5th Edition Swing Tag & China PE Tush Tag Retired 1999 With Common Stamped Factory Numbers. The 40 million mass produced 6th Edition Tush Tags contain an oval & number stamped in red or pink on the inside of the loop.
There were several different numbers denoting different assembly lines or factory control numbers. All Princess Beanie Baby Swing Tags are the same front & back. All Princess Beanie Baby Tush Tags are 1997.
Only the Princess Beanie Bear Buddy has the official Diana charity emblem or logo on the inside of the Swing Tag, all the Princess Beanie Baby Swing Tags do not. The Royal Wedding of The Century Queen Elizabeth has bestowed the official royal titles onto Prince William & Kate making them the Duke & Duchess of Cambridge. Abundant Blessings To Them & May They Live Happily Ever After...
Cost is calculated according to the destination Country. Customers can choose the service that they wish based on the desire for speed & security vs. Each country establishes its own standards. Many factors can affect international transit times.
We have no control over these charges & cannot predict what they may be. Holidays: Every country celebrates different holidays. Note that weekends may differ by country as well. Earthquakes, hurricanes, volcanic ash etc...
Media is slower then Priority etc... We promise not to fold or roll your collectible just because it could fit into an unprotected envelope or mailing tube. We won't send your item unprotected. It is very important to us that our buyers receive all items undamaged. There are many sellers that cause the damage themselves either directly or indirectly.
You know who you are! A few sellers have stated to us that they cross their fingers & hope their items arrive OK. Can you imagine a shipper actually spending extra time reading what is on the box or envelope other than the address? So rest assured, we would rather overprotect because we know what can happen.
We use thick cardboard to protect flat paper items from damage. If it is a larger item we use bubble wrap. Once an item is properly protected, we pack using custom sized mailers or envelopes for flat paper items & properly sized boxes with plenty of peanuts for larger items. SMOKE FREE ENVIRONMENT: All items have been stored in a nonsmoking, smoke free environment.
CONDITION: Grading conditions are subjective. You must be your own judge when deciding the condition of items vintage or new.
ABOUT US: We are the owner's of COOL COLLECTIBLES Celebrating decades in business & marriage. Please check out our Celebrity Items, Memorabilia & Collectibles offered.
Every week more awesome treasures are added to our listings. THANKS FOR LOOKING & HAVE AN ENCHANTING DAY!! Tags: Princess Diana, Princess Diana Beanie Baby Bear, Princess Diana Bear, Princess Diana Beanie Baby, Princess Diana Dolls, Princess Diana Magazines, Princess Diana TV Guide, Princess Diana Newspaper, Princess Diana Paperdolls, Princess Diana Paper Dolls, Princess Diana Memorabilia, Princess Diana Collectibles, Princess Diana Wedding, Princess Diana Bride, Princess Diana & Prince Charles Wedding, Princess Diana Of Wales Memorial Fund, Princess Diana & Prince William, Princess Diana The Peoples Princess, Princess Diana Jewelry, Princess Di Beanie, Princess Di Beanie Baby Bear, Princess Di Bear, Prince William & Kate, Prince William & Kate Middleton, Royal Weddings, Royal Wedding, The Queen Of England, Beanie Baby, Beanie Bear, Beanie Baby Bears, PVC Pellets, P.
Pellets, Tom Tierney Paper Dolls. _gsrx_vers_421 GS 6.0.9 (421). Use the FREE Counters 1 million sellers do - Vendio! The item "Princess Diana Beanie Baby Bear 1st Ed #1 1997 PVC China MWMT True History Here" is in sale since Thursday, April 28, 2011. This item is in the category "Toys & Hobbies\Beanbag Plush\Ty\Beanie Babies-Original\Retired".
The seller is "thejackpot" and is located in Los Angeles. This item can be shipped worldwide.
Year: 1997
Condition: Minty Mint
Country of Origin: China
Original/Reproduction: Original
Manufacturer: Ty
Pellets: PVC
First Edition: The Real Number One Bear!
Subject: Princess Diana Beanie Baby Bear