Declaration of Independence Benjamin Tyler First Print with Facsimile Signatures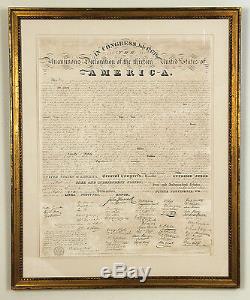 Declaration of Independence: Benjamin Tyler 1818 - First Print with Facsimile Signatures. In Congress, July 4th 1776. The Unanimous Declaration of the thirteen United States of America. Broadside, Drawn by Tyler and engraved by Peter Maverick, Washington, D. Tylers engraving of the Declaration was the first such decorative print with facsimiles of the signatures, based on the original manuscript.
Tyler, a penmanship professor, copied the signatures by hand. The exactness of his work is particularly impressive given the limitations of copying them freehand. Richard Rush, son of the signer Benjamin Rush, and acting Secretary of State in 1817, gave his endorsement which is printed on the bottom left corner.
The foregoing copy of the Declaration of Independence has been collated with the original instrument and found correct. I have myself examined the signatures to each. Tyler are curiously exact imitations, so much so, that it would be difficult, if not impossible, for the closest scrutiny to distinguish them, were it not for the hand of time, from the originals. More importantly, Tyler also won the endorsement of the author of the Declaration, Thomas Jefferson, to whom his edition is dedicated.
The Albert and Shirley Small Special Collections Library of the University of Virginia provides background on the Tyler printing. In 1815, the United States concluded its second war with Britain, the War of 1812, and American nationalism blossomed in its wake. Reinforcing this renewed patriotism, the passing of the signers generation created a passionate interest in all things associated with the nations founding.
Several entrepreneurs sought to capitalize on this demand by rushing to produce the first facsimile printings of the Declaration of Independenceoffering the American public its very first look at the document. In 1818, Benjamin Owen Tyler produced the first facsimile of the Declaration - an elaborate, painstakingly hand-copied engraving. The book which Tyler used to take orders for his facsimile survives, in the Albert H. Small Declaration of Independence Collection. Thomas Jefferson, James Madison, John Quincy Adams, and other notables were among those who signed the book. Tylers business rival John Binns had started more than a year earlier, but his monumental illustrated engraving was not published until the next year. The next and most desirable print of the Declaration came five years later, when W.
Stone produced a truly exact facsimile of the entire document. 1855 was born in Massachusetts and grew up in Vermont. He moved to New York City around 1814, where he taught penmanship and stenography and did ornamental writing for diplomas and other documents. In 1816, Tyler also taught penmanship at the U. Military Academy at West Point.
He moved in January 1817, to Washington, D. Where he taught handwriting and produced engraved portraits of famous Americans and created facsimiles of their letters. In 1818, he published what he considered the first correct copy of the Declaration of Independence.
When he visited Monticello, he taught Thomas Jeffersons granddaughters how to improve their writing and make pens scientifically. In 1820, he opened a lottery office in Washington with branches in other northeastern cities and operated it for a decade.
He left Washington in 1830 and lived in various parts of the United States and the Canadas, before returning briefly to Washington in 1834. In 1840, Tyler created a pair of broadsides supporting the candidacy of Whig William Henry Harrison for president. In January 1855, Tyler was found grossly intoxicated in Boston and sent to jail.
Margins trimmed close, just touching one or two flourishes; scattered insect damaged with five very small holes but text virtually complete; cleaned with some repaired tears and smoothed wrinkles; attractive overall. Historic Documents and Legacy Collections.
For over 20 years, Seth Kaller has been one of the countrys largest buyers of important historic documents and artifacts. More than 10,000 rare manuscripts, documents, maps, and books handled by Kaller are now in institutional and private collections including working drafts of the United States Constitution, Lincoln-signed copies of the 13th Amendment and Emancipation Proclamation, and rare prints and broadsides of the Declaration of Independence. Kaller is a member of the Antiquarian Booksellers Association of America (ABAA), the Professional Autograph Dealers Association (PADA), the American Antiquarian Society, the Manuscript Society, the New-York Historical Societys Chairmans Council, and the Papers of Abraham Lincoln Advisory Board. Everything we sell comes with our absolute guarantee that it is original and authentic.
Whether youre interested in the Founding Fathers, Documents of Freedom, Battles and Leaders, the Civil War, African-Americana, World History, Science, or a particular hero or villain, we can help you explore opportunities to take ownership of history. We can coordinate every aspect of the process for you, from searching for individual items to building entire world-class collections for your home, business, foundation, or favorite museum. Build a legacy by preserving history for generations to come. Through donations and loans to your favorite museum, library, or university, you ensure the survival of these important documents and act as a steward for personalities and ideas that shaped the world.
The item "Declaration of Independence Benjamin Tyler First Print with Facsimile Signatures" is in sale since Tuesday, September 20, 2016. This item is in the category "Books\Antiquarian & Collectible". The seller is "sethkaller" and is located in White Plains, New York.
This item can be shipped to United States.
Year Printed: 1818
Subject: History
Original/Facsimile: Original
Special Attributes: 1st Edition