1492 Bernardus Silvestris + Bernard of Clairvaux Incunable Medieval Manuscript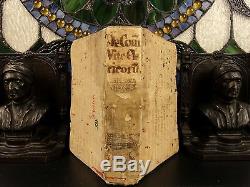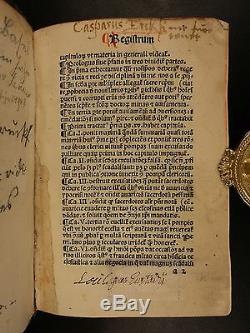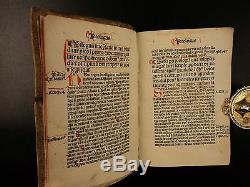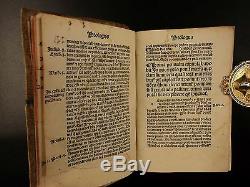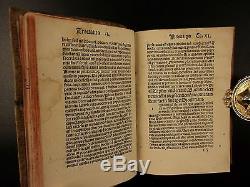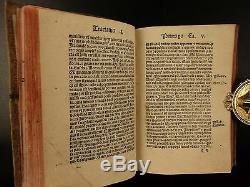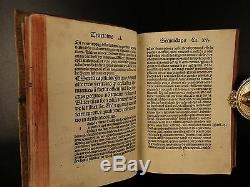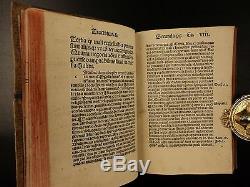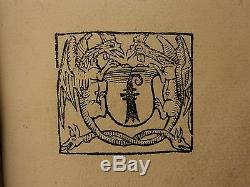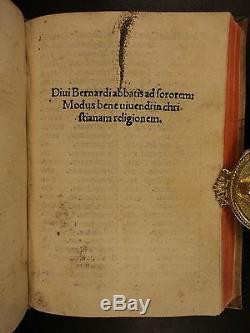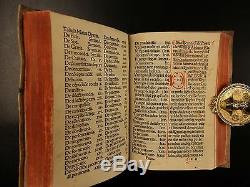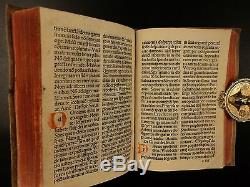 1492 Bernardus Silvestris + Bernard of. Thomas of Froidmont, Bergomensis, & Michael Furter. Two incredible incunable printings in one medieval manuscript binding. 1085 1178, was a medieval Platonist philosopher and poet of the 12th century. Bernard, of Clairvaux Saint; Thomas, of Froidmont ; Bernard Silvestris - - - - Jacobus Philippus, Bergomensis; Michael Furter.
Reformatoriu[m] vite moru[m]q[ue] [et] honestatis clericorum saluberimu[m] : cum fraterna quada[m] resipisce[n]di a vicijs exhortatio[n]e [et] ad penitentie portu[m] applicandi admonitio[n]e : cu[m] exp[re]ssione quorunda[m] signo[rum] ruine [et] tribulationis ecclesie. Divi Bernardi abbatis ad sororem: Modus bene vivendi in Christianam religionem.
In vrbe Basilea : P[er] Michaele[m] Furter impresso[rum], 22 Feb. Impressum Venetiis : Per Bernardinum de Benaliis Pergomensem, 1492. Formerly attributed to Bernard of Clairvaux; attributed to Thomas of Froidmont.
A work written to spiritual formation and growth within the Catholic Church. 100 pages, complete Signatures: a-l. Work designed to offer discipline to clergy of the Catholic Church. Wear as seen in photos.
Tight and secure medieval manuscript vellum binding. Only lacking title leaf to 1. Reformatorium title, but otherwise entirely complete with all pages; plus indexes, prefaces, and such; INCLUDING dated colophon and printing details for each title. 5in X 4in (12.5cm x 10cm).
Bernardus Silvestris, also known as Bernard Silvestris and Bernard Silvester, was a medieval Platonist philosopher and poet of the 12th century. 2.1 So-Called Silvestris Commentary. Little is known about his life. André Vernet, who edited Bernardus' Cosmographia, believed that he lived from 1085 to 1178; the only certain date in his life is 1147, when the Cosmographia was supposedly presented to Pope Eugene III.
Other sources place the writing of the Cosmographia sometime between 1143 and 1148. [1] There is some evidence that he was connected to Spanish schools of philosophy, but it seems likely that he was born in Tours, due to the intimate descriptions of the city and the surrounding area found in the Cosmographia. Later medieval authors also associated him with that city. Wherever he was born, he certainly studied and taught at Tours. There he likely taught in the humanities department. There is little evidence connecting Silvestris to Chartres this is supported by Poole even though there was a letter of dedication to Thierry, who became Chancellor of Chartres in 1141. It is most likely that Silvestris wrote the letter in order to win the favour of a powerful figure, known for his interest in science. [1] In the 19th and early 20th centuries, it was assumed that Bernardus was the same person as Bernard of Chartres, although this identification has been challenged by more recent scholars such as Julian Ward Jones. Most notably, a contemporary of Bernardus, John of Salisbury, who was bishop of Chartres, quotes from works attributed to Bernardus but does not know the author by name. He also quotes from Bernard of Chartres and knows him as a separate author. Bernardus' greatest work is the aforementioned Cosmographia, a prosimetrum on the creation of the world, told from a 12th-century Platonist perspective. The poem influenced Chaucer and others with its pioneering use of allegory to discuss metaphysical and scientific questions. Bernardus also wrote the poem Mathematicus and probably the poem Experimentarius as well as some minor poems. Among the works attributed to Bernardus later in the Middle Ages were a commentary on Virgil's Aeneid (Bernardus' authorship of which has been questioned by modern scholars) and a commentary on Martianus Capella's De Nuptiis Philologiae et Mercurii. The commentary on the Aeneid is the longest medieval commentary on that work, although it is incomplete, ending about two-thirds of the way through book six. In his article "The So-Called Silvestris Commentary on the Aeneid and Two Other Interpretations", attempts to clear up the issue of the authorship of the Aeneid commentary by distinguishing two distinct positions: the first by E. Smits, and the second by Christopher Baswell.
Smits's account is rejected by Jones, who says that Baswells account is mostly correct but requires some modification. Smits, like André Vernet (1938), hypothesizes that Carnotensis (the pen-name of the commentary) is Bernard of Chartres the individual who Silvestris is most confused for. Vernet says that Silvestris, for whom this confusion was normally detrimental, probably gained from this particular confusion, as he is most often credited for the commentary on Vergils Aeneid. Smits and Vernet attribute Bernard of Chartres's authorship of the Aeneid commentary to a number of similarities and differences between this work and other texts.
What needs to be asked here though is why is Vernet still turned to for answers on Silvestris, when he wrote on the subject in 1938? It seems as though we do not have a choice, because even more modern writers, such as Jones, continue to cite him because there is no one else to look to. Vernet still has authority on the subject matter. On the other hand, Christopher Baswell attempts to interpret the Aeneid commentary through comparison to a commentary in Cambridge manuscript Peterhouse 158, seeing this as an important link between manuscripts of the commentary and the Silvestris commentary. By placing the passages in two columns it is clear to the reader as it is to Baswell that the interpretations are congruent, although the notes in the Peterhouse MS appear to be shortened and simpler versions of notes in the Silvestris commentary.
Baswell wants here to conclude that the Peterhouse MS represents the earlier work of Silvestris. Jones sets this conclusion aside to continue to exhibit differences that occur which in his opinion are more important than the striking similarities. By pointing to differences in organization among other things, Jones casts doubt on Baswells earlier hypothesis.
What becomes clear is that there is agreement between Baswell and Jones in that they both see Silvestris as the Aeneid commentator, but Jones cannot agree with the connection to the Peterhouse MS. It is also viewed as the most elaborate commentary from the Middle Ages. The Cosmographia influenced Chaucer and others with its pioneering use of allegory to discuss metaphysical and scientific questions. Theodore Silverstein praises Silvestris poems for their imaginative prose, as well as for positioning himself well in literature based on the time and placeparticularly in the writing of the Cosmographia during the 12th-century controversies of evolution. [3] In the Catholic Encyclopedia, William Turner wrote that there was a "pantheistic drift" to his philosophy.
There is evidence of influence in the works of medieval and renaissance authors, including Hildegard of Bingen, Vincent of Beauvais, Dante, Chaucer, Nicolas of Cusa, and Boccaccio. [1] In the modern era, Bernardus Silvestris has been referred to in the science fiction work of C. The item "1492 Bernardus Silvestris + Bernard of Clairvaux Incunable Medieval Manuscript" is in sale since Monday, September 19, 2016. This item is in the category "Books\Antiquarian & Collectible". The seller is "schilb_antiquarian_books" and is located in Columbia, Missouri.
This item can be shipped worldwide.
Subject: Religion & Spirituality
Binding: Vellum
Special Attributes: 1st Edition
Language: Latin
Original/Facsimile: Original
Original/Reproduction: Original
Year Printed: 1492
Topic: Bible