1460 Refined Pontifical Illuminated In The Workshop Of Dalemagna And Crivelli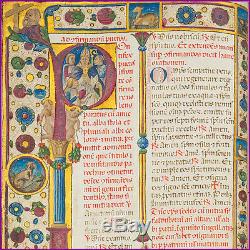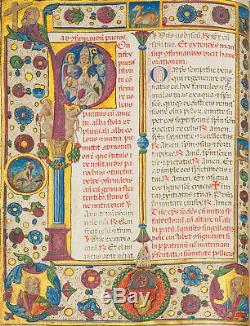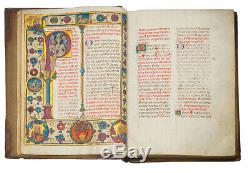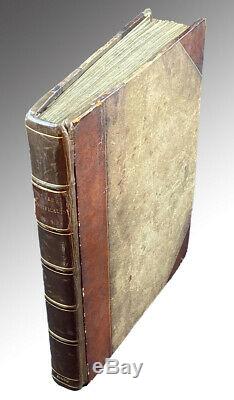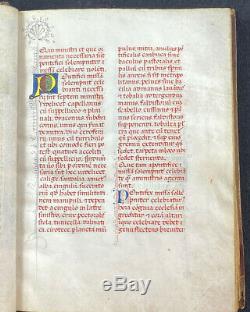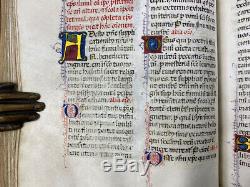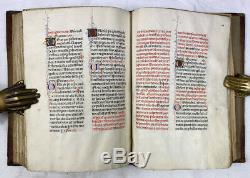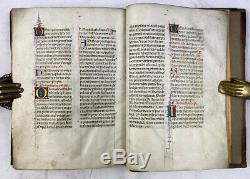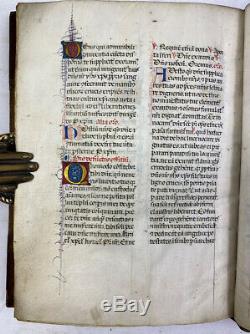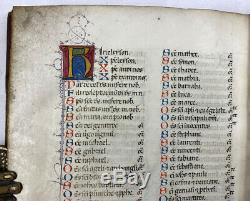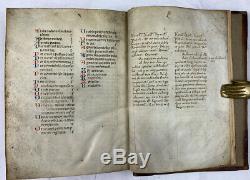 A refined Pontifical belonging to the Ferrara production. Allegedly illuminated in the workshop of. Giorgio dalemagna and taddeo crivelli.
Two of the principal artists responsible. Of the Bible of Borso dEste. Illuminated and decorated manuscript on vellum, Italy, Ferrara, XV.
4to (235x174 mm), 19th century half-calf (minor scuffing of edges), ff. 15th-century foliation 1-120 starting on fourth folio: 14, 2-1210, 139 (of 10, final leaf a cancelled blank), two columns of 27 lines in an Italian Gothic script (littera textualis), written in black ink and rubricated in red, written space 145 x 112 mm. Historiated initial and full-page border with roundels of Saints Peter and Paul and corner- and centre-pieces with Saint Andrew, animals and birds. One- to three-line initials of gold on blue, green and red grounds with purple flourishing alternating with blue initials with red flourishing throughout. I (paper), 2+120, II' I' membr.
II' paper, between I' and II' there is a different paper, added later, with a modern annotation; ff. 122, large-sized manuscript (235x174 mm), membr. Vitulina, whitish parchment of excellent quality, well-tanned, with no tanning defects, or oxidation, and without differences between hair and flesh sides, 15. Century foliation in Arabic numerals, starting from the current f.
4, but referred as f. 1, no contemporaneous to volume's writing and composition, written in brown ink and placed on the upper right margin starting from the real f. 1, ; gatherings: 1(12), 2-11(10), 12(8); catchwords, always visible and present, in brown or red ink, smartly corresponding to the colour of the first word in the respective booklet opening see e.
11v, 21v, 31v, 41v, 51v, 61v, 71v, 81v, 91v, 101v, 111v; ff. Manuscript with a very airy and refined mise-en-page, structured on two columns, equal to 27 lines of writing (145 x 112 mm), in an Italian lictera textualis rotunda, written with brown ink see f. 1r, by a very educated single hand, characterized for a large form, structure and a posed ductus; a second different one drew up the Index operarum ff. Ir-iiv, as stressed by the different colour ink, the script and letters ductus ; other one, the third, is recognizable in the prayers and Litaniae added in f.
120r, an anepigraph sheet originally, the same hand added also in brown ink with a personal writing some annotations, titles, and numbering to the original index changing it from Tabula huius libris pontificalis in Tabula huius libris pontificalis et primo confirmandus puerorum ; bishop service instructions and rubrics at the beginning of the different sections are realized in red ink. Presence of a Greek alpabeth in brown ink, inside the ordo dedicationis ecclesiae et altaris , according to the ancient ritual of dedication in the Roman Church. The volume is enriched by a wide and extensive, variegated and sophisticated decorative apparatus consisting of: a page of incipit enclosed on the four margins by lively inhabited Phytofloral friezes; about one hundred gold inlaid initials inserted in a polychrome background (green, blue and red), equal to 2 lines see e. Iiiv, 2, 4v, 5r, 14r-v, 32v-33r; or to 4 lines of writing see e. 13r, 17r, 18r, 19r, 20r, 41v, embellished by different calligraphic motifs in white lead, or other inks colours (black, blue, lilac, red) along the writing column; very numerous small headed initials in blue or red ink with contrasting jeux de plume patterns see e.
Iiir: Incipit page entirely enclosed, along the four margins, by an elaborate framework, bordered by golden strips within which unfolds a rich vegetable frieze, characterized by the intertwining of fioroni , in the blue, purple, orange and green colours, golden buttons, thin brown racemes, and interspersed by different golden cantonals or inhabited and historiated clipei. It can recognize respectively: S. Peter (extreme upper right margin), a deer on a landscape background (center of the upper margin), a pair of birds on a landscape (extreme left upper margin), a dove (center of the margin) lateral left, S.
Paul (extreme margin left), a monkey on a landscape (center of the right lateral margin). In the middle of the bas-de page it is recognizable a laurel coat of arms topped by bishop's mitre. A gold strip, similar to those that profile the margins, emphasizes the intercolumnar space. Historiated letter P of Pontifex (equal to 12 lines of writing), at the beginning of the Confirma puerorum, representing the Pontiff in the act of imparting the Confirmation to three young guys, letter realized in violet colour on a golden field with the body decorated with silver filigree.
An ancient architectural frieze, consisting of an ancient Doric column where two putti are playing with a laurel garland, departs from the capital letter. Modern binding, datable to 19.
Century in half-calf, with gold cuts maintained, that recovers and restores an 18th-century one, with some minor scuffing of edges. A liturgical book of the Catholic Church, containing instructions for celebrations' rituals held by the Roman bishop, was almost never used, as indicated by volume's perfect conservative conditions and the absence of any traces of wear (see infra). Therefore, this very refined papal manuscript had to be considered as a spectacular codex of apparatus, as suggested by the in-folio format, the extreme quality and attention in support manufacturing, and in the decorative apparatus. In the volume, belated solutions typical of the late 14.
Century and beginning of the 15. One, as the choice of lictera textualis , or calligraphic initials, to emphasize the smaller partitions, coagulate together, in a calibrated and measured mixture, with other ones in harmony and consistency with the new humanistic lexicon, as suggested by elements such as floral inhabited friezes, that unravel long borders and bas-de page , or cherubs, bearing garland spicing up the initial field cfr. Details that amalgamated in a sure phrasing, makes the book an exceptional bibliographic and artistic product ascribable to Ferrarese and Estense illuminated production of the second half of 15. Century safely; the stylistic elements, detectable in decorative apparatus, refers to.
S workshop the latter one for the treatment of volumes and incarnations in the historiated letter at the opening of f. Iir specially, whose most prestigious commission was the lavishly illustrated two-volume Bible produced between 1455 and 1461 for Ferrara's ruler, Duke Borso d'Este. On the other hand, for the. Folio interesting analogies and connections could be identified and established with the ms. 158r (Paris, Bibliothèque nationale de France), a volume afferent to the environment of Ferrara and datable around 1470.
It is interesting to note, also, how the peculiar choice of the. In volume's editing makes it render approachable for cultural and aesthetic choices to other codes of the same chronological and topical time frame like the. Missale secundum consuetudinem Romanae Curiae.
Modena, Biblioteca Estense Universitaria, ms. 239 or the sheets referable to the. Breviary of Lionello d'Este. Cambridge, Harvard University, Houghton Library, MS.
301, Ferrara, Musei Civici di Arte Antica OA1631. The heraldic coat of arms placed in the middle of the bas-de-page see f. Iiir, is identified as the coat of arms of the Italian Rota family (truncated in the first of red to a silver wheel, in the second of silver to the mountain with three peaks in green).
The element, traced by a less polite hand, if compared with the remaining decorative apparatus one, does not appear to be contemporaneous with the writing and decoration of the ms. Therefore, the current emblem seems to be overlaid, obliterating the coherent and coeval to manuscript's editorial project one. So the original one, taking into account the chronological and topographic period, the excellent material quality of the volume, as well as its editorial destination and use, could be hypothetically be a gorgeous gift referable to Lorenzo Roverella (1474), bishop of Ferrara between 1460 and 1474.
Manuscript in fairly perfect conservative conditions, without any traces of use, wear, oxidation of inks, or mechanical strain and deformation related to writing support. There are no documented restorations in modern ages, except for the re-modernization of the binding in the 19.
Miniature e disegni nella Biblioteca estense (secoli X-XX). Hermann, La miniatura estense , 1990; F.
Toniolo, La miniatura a Ferrara: crogiolo delle arti in Cosmè Tura e Francesco del Cossa : l'arte a Ferrara nell'età di Borso d'Este, a cura di M. Bloxam's antiquarian one E LIBRIS/ MH BLOXAM, F. R/ SCHOLAE RUGBEIENSI/ LEGATIS , to reach the Rugby School Library Matt. Bloxam/Rugby, /August 30 1837 finally, as clarified on 2nd flyleaf by his College coats of arms and its motto (Schol/Rugbiens/Biblioth). Illumination manuscript missal gradual antiphonal vellum parchment handwritten book of hours calendar headletters gold head-letters kyriale Ordinary Italy.
The item "1460 REFINED PONTIFICAL ILLUMINATED IN THE WORKSHOP OF DALEMAGNA AND CRIVELLI" is in sale since Monday, May 25, 2020. This item is in the category "Books\Antiquarian & Collectible". The seller is "bibliofind" and is located in Milano. This item can be shipped worldwide.
Year Printed: 1460
Country/Region of Manufacture: Italy
Topic: Religious, Inspirational
Binding: XIX century binding
Illustrator: GIORGIO DALEMAGNA AND TADDEO CRIVELLI
Author: GIORGIO DALEMAGNA AND TADDEO CRIVELLI
Subject: Pontifical
Original/Facsimile: Original
Language: Latin
Publisher: Manuscript
Place of Publication: Ferrara
Special Attributes: 1st Edition