Lunar Impact A History of Project Ranger, 1977, First Edition Hardcover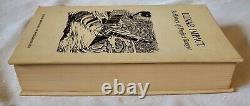 Highly sought after 1977, First Edition of this book in very good condition!! Strong Spine/Binding, Clean Pages No Writing, Highlighting, Underlining, Etc.
Cargill Hall has written a history. Readers not familiar with the state of writing about twentieth century technology and science may not realize his achievement. Accounts-so-called histories-of recent technology and science are often little more than simplistic narratives focusing almost entirely upon sequences in hardware development or upon scientific idea explication. In commendable contrast, Hall organized a coherent narrative and analysis of complex institutions, people, ideas, and machines changing in character and in relationship one to another over time. His history of the Ranger Project is also critical and mature. He avoided neither complexity and contradiction nor reasoned analysis and judgments about episodes and people. He allowed for accident, unintended consequences, shifting priorities, budgetary adjustments, and over-determined events. This is evidenced by a frank account of six superficially ignominious Ranger failures, an analysis of the effects of NASA management by committee, an appraisal of the impact of high-priority Project Apollo upon Ranger, and a consideration of the consequences of Ranger's being done at the Jet Propulsion Laboratory, a university rather than an industrial laboratory. He comprehended how these and other factors generally influenced the project and shaped the automatic machine, the exploring spacecraft, at its hard core. Lunar Impact transforms the records of a technological project into history by applying the canons of historical scholarship.