1698 1st ed Works John MILTON British History English FOLIO Cromwell ENGLAND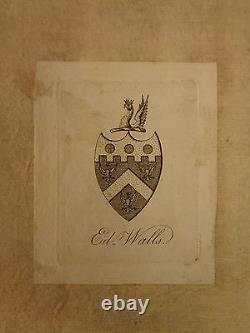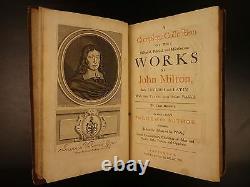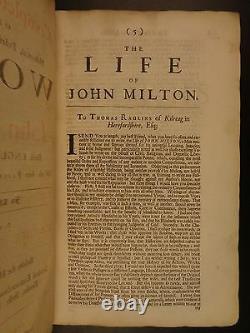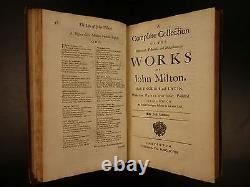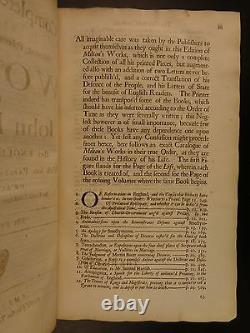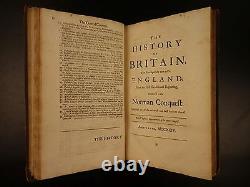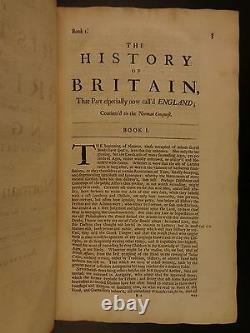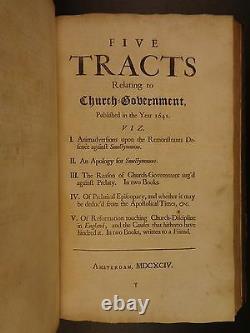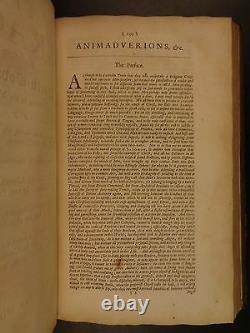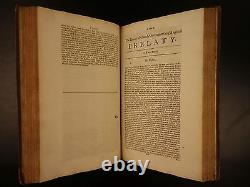 British History English FOLIO Cromwell ENGLAND. A fine collection of John Milton's non poetical works. John Milton (1608 1674) was an English poet, polemicist, man of letters, and a civil servant for the Commonwealth of England under Oliver Cromwell. He wrote at a time of religious flux and political upheaval, and is best known for his epic poem Paradise Lost (1667), written in blank verse.
A complete collection of the historical, political and miscellaneous works of John Milton, both English and Latin : with som[e] papers never before publish'd : in three volumes : to which is prefix'd the life of the author, containing besides the history of his works, several extraordinary characters of men and books, sects, parties, and opinions. Wear as seen in photos. Tight and secure leather bindings. Complete with all 48 + iv + 442 pages; plus indexes, prefaces, and such.
13in X 8in (33cm x 20cm). John Milton (9 December 1608 8 November 1674) was an English poet, polemicist, man of letters, and a civil servant for the Commonwealth of England under Oliver Cromwell.
Milton's poetry and prose reflect deep personal convictions, a passion for freedom and self-determination, and the urgent issues and political turbulence of his day. Writing in English, Latin, Greek, and Italian, he achieved international renown within his lifetime, and his celebrated Areopagitica (1644)written in condemnation of pre-publication censorshipis among history's most influential and impassioned defences of free speech and freedom of the press. William Hayley's 1796 biography called him the "greatest English author", [1] and he remains generally regarded "as one of the preeminent writers in the English language", [2] though critical reception has oscillated in the centuries since his death (often on account of his republicanism). Samuel Johnson praised Paradise Lost as a poem which... With respect to design may claim the first place, and with respect to performance, the second, among the productions of the human mind", though he (a Tory and recipient of royal patronage) described Milton's politics as those of an "acrimonious and surly republican.
1.2 Study, poetry, and travel. 1.3 Civil war, prose tracts, and marriage. 1.4 Secretary for Foreign Tongues. 4.1 Early reception of the poetry. 5.1 Poetry and drama.
The phases of Milton's life parallel the major historical and political divisions in Stuart Britain. Under the increasingly personal rule of Charles I and its breakdown in constitutional confusion and war, Milton studied, travelled, wrote poetry mostly for private circulation, and launched a career as pamphleteer and publicist. Under the Commonwealth of England, from being thought dangerously radical and even heretical, the shift in accepted attitudes in government placed him in public office, and he even acted as an official spokesman in certain of his publications. The Restoration of 1660 deprived Milton, now completely blind, of his public platform, but this period saw him complete most of his major works of poetry. Milton's views developed from his very extensive reading, as well as travel and experience, from his student days of the 1620s to the English Civil War.
[4] By the time of his death in 1674, Milton was impoverished and on the margins of English intellectual life, yet famous throughout Europe and unrepentant for his political choices. Main article: Early life of John Milton. Blue plaque in Bread Street, London, where Milton was born. John Milton was born in Bread Street, London, on 9 December 1608, the son of the composer John Milton and his wife, Sarah Jeffrey. The senior John Milton (15621647) moved to London around 1583 after being disinherited by his devout Catholic father, Richard Milton, for embracing Protestantism.
In London, the senior John Milton married Sarah Jeffrey (15721637) and found lasting financial success as a scrivener. [5] He lived in, and worked from, a house on Bread Street, where the Mermaid Tavern was located in Cheapside.
The elder Milton was noted for his skill as a musical composer, and this talent left his son with a lifelong appreciation for music and friendships with musicians such as Henry Lawes. Milton's father's prosperity provided his eldest son with a private tutor, Thomas Young, a Scottish Presbyterian with an M. From the University of St. Research suggests that Young's influence served as the poet's introduction to religious radicalism. [7] After Young's tutorship Milton attended St Paul's School in London.
There he began the study of Latin and Greek, and the classical languages left an imprint on his poetry in English (he also wrote in Italian and Latin). John Milton at age 10 by Cornelis Janssens van Ceulen. Milton's first datable compositions are two psalms done at age 15 at Long Bennington. One contemporary source is the Brief Lives of John Aubrey, an uneven compilation including first-hand reports.
In the work, Aubrey quotes Christopher, Milton's younger brother: "When he was young, he studied very hard and sat up very late, commonly till twelve or one o'clock at night". In 1625 Milton began attending Christ's College, Cambridge. He graduated with a B.
In 1629, [9] and ranked fourth of 24 honours graduates that year in the University of Cambridge. [10] Preparing to become an Anglican priest, Milton stayed on to obtain his Master of Arts degree on 3 July 1632. Milton was probably rusticated (suspended) for quarrelling in his first year with his tutor, Bishop William Chappell. He was certainly at home in the Lent Term 1626; there he wrote his Elegia Prima, a first Latin elegy, to Charles Diodati, a friend from St Paul's. Based on remarks of John Aubrey, Chappell "whipt" Milton.
[8] This story is now disputed, though certainly Milton disliked Chappell. [11] Historian Christopher Hill cautiously notes that Milton was "apparently" rusticated, and that the differences between Chappell and Milton may have been either religious or personal. [12] It is also possible that, like Isaac Newton four decades later, Milton was sent home because of the plague, by which Cambridge was badly affected in 1625. Later, in 1626, Milton's tutor was Nathaniel Tovey. At Cambridge, Milton was on good terms with Edward King, for whom he later wrote Lycidas.
He also befriended Anglo-American dissident and theologian Roger Williams. [13] At Cambridge Milton developed a reputation for poetic skill and general erudition, but experienced alienation from his peers and university life as a whole. Watching his fellow students attempting comedy upon the college stage, he later observed'they thought themselves gallant men, and I thought them fools'.
Milton was disdainful of the university curriculum, which consisted of stilted formal debates on abstruse topics, conducted in Latin. His own corpus is not devoid of humour, notably his sixth prolusion and his epitaphs on the death of Thomas Hobson. While at Cambridge he wrote a number of his well-known shorter English poems, among them On the Morning of Christ's Nativity, his Epitaph on the admirable Dramatick Poet, W. Shakespeare, his first poem to appear in print, L'Allegro and Il Penseroso. Study, poetry, and travel[edit].
For more details on this topic, see Early life of John Milton. It appears in all his writings that he had the usual concomitant of great abilities, a lofty and steady confidence in himself, perhaps not without some contempt of others; for scarcely any man ever wrote so much, and praised so few. Of his praise he was very frugal; as he set its value high, and considered his mention of a name as a security against the waste of time, and a certain preservative from oblivion. Samuel Johnson, Lives of the Most Eminent English Poets. In 1632, Milton retired to Hammersmith, his father's new home since the previous year.
He also lived at Horton, Berkshire, from 1635 and undertook six years of self-directed private study. Christopher Hill argues that this was not retreat into a rural idyll: Hammersmith was then a "suburban village" falling into the orbit of London, and even Horton was becoming deforested, and suffered from the plague. [16] He read both ancient and modern works of theology, philosophy, history, politics, literature and science, in preparation for a prospective poetical career.
Milton's intellectual development can be charted via entries in his commonplace book (like a scrapbook), now in the British Library. As a result of such intensive study, Milton is considered to be among the most learned of all English poets. In addition to his years of private study, Milton had command of Latin, Greek, Hebrew, French, Spanish, and Italian from his school and undergraduate days; he also added Old English to his linguistic repertoire in the 1650s while researching his History of Britain, and probably acquired proficiency in Dutch soon after. Milton continued to write poetry during this period of study: his Arcades and Comus were both commissioned for masques composed for noble patrons, connections of the Egerton family, and performed in 1632 and 1634 respectively. Comus argues for the virtuousness of temperance and chastity.
He contributed his pastoral elegy Lycidas to a memorial collection for one of his Cambridge classmates. Drafts of these poems are preserved in Miltons poetry notebook, known as the Trinity Manuscript because it is now kept at Trinity College, Cambridge. In May 1638, Milton embarked upon a tour of France and Italy that lasted up to July or August 1639. [18] His travels supplemented his study with new and direct experience of artistic and religious traditions, especially Roman Catholicism.
He met famous theorists and intellectuals of the time, and was able to display his poetic skills. For specific details of what happened within Milton's "grand tour", there appears to be just one primary source: Milton's own Defensio Secunda.
Although there are other records, including some letters and some references in his other prose tracts, the bulk of the information about the tour comes from a work that, according to Barbara Lewalski, was not intended as autobiography but as rhetoric, designed to emphasise his sterling reputation with the learned of Europe. In [Florence], which I have always admired above all others because of the elegance, not just of its tongue, but also of its wit, I lingered for about two months.
There I at once became the friend of many gentlemen eminent in rank and learning, whose private academies I frequenteda Florentine institution which deserves great praise not only for promoting humane studies but also for encouraging friendly intercourse. Milton's account of Florence in Defensio Secunda.
He first went to Calais, and then on to Paris, riding horseback, with a letter from diplomat Henry Wotton to ambassador John Scudamore. Through Scudamore, Milton met Hugo Grotius, a Dutch law philosopher, playwright and poet. Milton left France soon after this meeting. He travelled south, from Nice to Genoa, and then to Livorno and Pisa. He reached Florence in July 1638. While there, Milton enjoyed many of the sites and structures of the city. His candour of manner and erudite neo-Latin poetry earned him friends in Florentine intellectual circles, and he met the astronomer Galileo, who was under house arrest at Arcetri, as well as others.
[21] Milton probably visited the Florentine Academy and the Academia della Crusca along with smaller academies in the area including the Apatisti and the Svogliati. He left Florence in September to continue to Rome. With the connections from Florence, Milton was able to have easy access to Rome's intellectual society. His poetic abilities impressed those like Giovanni Salzilli, who praised Milton within an epigram.
In late October, Milton, despite his dislike for the Society of Jesus, attended a dinner given by the English College, Rome, meeting English Catholics who were also guests, theologian Henry Holden and the poet Patrick Cary. [22] He also attended musical events, including oratorios, operas and melodramas. Milton left for Naples toward the end of November, where he stayed only for a month because of the Spanish control. [23] During that time he was introduced to Giovanni Battista Manso, patron to both Torquato Tasso and to Giovanni Battista Marino.
[26] Matters became more complicated when Milton received word that Diodati, his childhood friend, had died. In Defensio Secunda, Milton proclaimed he was warned against a return to Rome because of his frankness about religion, but he stayed in the city for two months and was able to experience Carnival and meet Lukas Holste, a Vatican librarian, who guided Milton through its collection. He was introduced to Cardinal Francesco Barberini who invited Milton to an opera hosted by the Cardinal. Around March Milton travelled once again to Florence, staying there for two months, attending further meetings of the academies, and spent time with friends. After leaving Florence he travelled through Lucca, Bologna, and Ferrara before coming to Venice.
In Venice, Milton was exposed to a model of Republicanism, later important in his political writings, but he soon found another model when he travelled to Geneva. From Switzerland, Milton travelled to Paris and then to Calais before finally arriving back in England in either July or August 1639. The item "1698 1st ed Works John MILTON British History English FOLIO Cromwell ENGLAND" is in sale since Tuesday, December 27, 2016. This item is in the category "Books & Magazines\Antiquarian & Collectible".
The seller is "schilb_antiquarian_books" and is located in Columbia, Missouri. This item can be shipped worldwide.
Binding: Leather
Special Attributes: First Edition
Language: English
Original/Facsimile: Original
Original/Reproduction: Original
Year Printed: 1698
Subject: Literature & Fiction
Topic: Poetry