Genuine 1601 Elizabeth I Privy Seal Latin Manuscript THURLAND CASTLE Document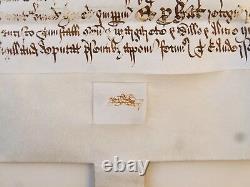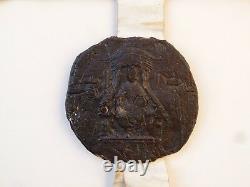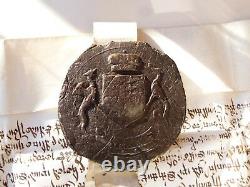 So thank you once again to yet another chap called Michael a student of English History at Oxford for your research into this seal and the pointing out to me its a PRIVY seal and not her grand seal. I initially thought that the seal was that or Mary which quite often happens when a new monarch takes over they didn't have time to engrave a new seal matrix so the predecessors seal was used.
I also mistook this seal on this document and thought it was a GREAT seal when in fact it is a PRIVY seal. So APOLOGIES to anyone that has read this and thought " he's got that wrong ".
Here is a really fabulous manuscript hand written official document from the Elizabethan period of England. It relates to what it talks about on the card which comes with the document. See below the red font.
The document is from the year 1601 era. The wax seal attached is her PRIVY SEAL which was a personal seal of the monarch as in personally approved documents had this seal attached to them like this document in relation to the Great Seal which is for more important documents which you can see some if you google the National Archive. Also the Great Seal is much larger than a Privy Seal. Googling the typed card surnames I can find the following info online. Remember if some of you can actually read the Latin wording it may be relating to something else...
But my research from the info with it shows this... The document is in relation to Francis Tunstall 1531 - 1587 of Thurland Castle.. Son of Marmaduke Tunstall 1507 - 1558 and mother Mary Alice (Scargill) Tunstall. Francis was brother of Isabel (Redman) and Ann (Middleton). Husband of Alice (Radcliffe) about 1545 and husband of Ann (Bold) Tunstall about 1568. He was father to Ann - Richard - Bridget (Trollop) - Francis - William - Alice - Elizabeth (Lascelles) - Thomas - Joan (Phillip) - Thomasine.
His father Marmaduke Tunstall got Thurland Castle in 1529 and he was made a Knight in 1533 at Anne Boleyn's Coronation, he aided the suppression of the northern rebellion in 1536 and died in 1557, his heir was his son Francis Tunstall 1531 - 1587. This document is from 1601. Francis Tunstall 1569 - 1637 was son of this Francis Tunstall.
Francis and his wife Elizabeth (Gascoigne) moved to Scargill in Yorkshire which was inherited from his grandmother Mary Ann Scargill wife of Sir Marmaduke Tunstall. There is a typed bit of card with the document says the following. It is an Exemplification document dated 24th January 45 Elizabeth (1602 /1603) of a final concord levied in Michaelmas Term (1601) between Francis Tunstall of Thureslande Castell in the County of Lancaster, Jr Esq and John Tunstall, querunts, and Francis Tunstall of Awckliffe County Lancaster, Sr Esq, and Margaret his wife, and William Tunstall, Gent and Alice, his wife, deforciants, concerning the Manor of Masingill with appurtenances in Masnigill, Thornton & Burton. These names are spelt slightly different these days such as THURLAND CASTLE - RAWCLIFFE - MASONGILL. The original official document was folded originally then at some later time it has been put into a frame and hung on a wall... I have taken it out of the frame and taken it off the mounting board as well.... The glue they have used easy comes off the vellum and when I send it to you it will be folded once again (not tight) and sent to you in a box. 20 inch long x 11 and half inch deep with the two vellum bits hanging down and the wax Official Privy Seal onto the bottom is 3 and 3/4 inch dia x 3/8ths inch deep. Good relief on the wax seal showing Queen Elizabeth on the throne with orb and sceptre....
And coat of arms on the rear....... Wyvern or dragon to the left hand side with a whippet like dog to the right hand side..
Crown above the coat of arms which has the 3 lions in opposite boxes and 3 fleur de lis in the other two opposite boxes.... The wax seal is rubbed on both sides..
And the design flattened off somewhat... But enough information can be seen on it. Be assured this is a GENUINE Elizabethan period document and wax seal.. It is not a copy..
It is a UNIQUE item in its own right as well as these were not copied at the time... So there is only this example of this document. Would suit a local Archive office, museum, family relation or serious private collector. Scale is usually an English 1 penny coin which is 20mm in diameter which is just short of 7/8ths of an inch in diameter.
In the title or description it means. Condition which may have scuffs, scratches and damage. We cannot and will not declare items below the sale value. The item "Genuine 1601 Elizabeth I Privy Seal Latin Manuscript THURLAND CASTLE Document" is in sale since Monday, January 21, 2019. This item is in the category "Antiques\Manuscripts". The seller is "diggerlee" and is located in Yorkshire. This item can be shipped worldwide.
Subject: EXEMPLIFICATION
Original/Facsimile: Original
Date of Publication: 1601
Language: Latin
Material: vellum wax seal
Region: Lancaster England
Type: manuscript document
Place of Publication: England
Special Attributes: First Edition