J. R. R. Tolkien, The Hobbit, 1937, 1st Edition, 2nd Imp. With Original Jacket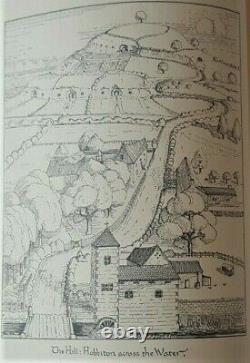 Allen & Unwin, 2nd printing, 1937 same year as 1st, with color illustrations by Tolkien himself. Original dust jacket bright colors, no restoration or repairs, complete with only minor wear and tear to edges and corners, with minor paper loss in places, as shown. Correct dust jacket stating 2nd impression.
Book (and jacket) has light foxing in places, minor foxing spots to cloth front cover, but clean overall, with tight binding. One page, as shown, the page corner has folded over creating a crumple which has attracted foxing.
A lovely copy overall , the best I've seen which I can say as a 20 Tolkien book dealing specialist. Now extremely rare in such nice, original condition. This book is for sale on several sites and my sell at any time. This is the earliest Hobbit on the market with complete dust jacket in such fine condition.
With the success of the first printing, the publishers decided to incur the costs of printing some color illustrations and higher quality in the second impression/printing. Tolkien re-produced himself upgrading from the original black and white version. You can see subtle changes between the BxW and color as well as Tolkien's initial sign which appears on all his color works. Unknown to many, is the 2nd impression is slightly taller book and dust jacket than all the rest where later printings and impression also seem to be of poorer quality paper. The text of the first editions was changed in the second edition to align with the story of The Lord of the Rings, soon to be published. Chapter 5 in particular was changed as were the end maps. Goblins became Orcs as an example. These first editions Hobbits have the original text, illustrations and maps. I was asked recently by a fellow dealer how I priced my Tolkien books. Was new pricing based on the last sale price? No, the internet has changed everything as far as transparency of supply and we change our prices daily, sometimes. It has become more complicated over the 20 years weve been specializing in Tolkien. The price is based on what else is available on the market, that day, and may be adjusted down as well as up. It takes only minutes to check. Other sellers may list similar copies or as is the case now, we may have the only copies available. As a specialist, we have in stock the books are customers want most frequently. So when theres no others immediately available, we have to price at a future. Price so we can afford to replace it. When a first printing sells at a new high, the second and later printing rises in value as well. On a rare occasion several sellers may put their copies on the same time, in which case comparative condition matters most to the value. In fact, condition is the biggest factor especially books where the dust jackets are even more scarce than it simply being a first edition. I ask them to send a photo and almost 99% of the time, their book and jacket are damaged or more worn. They are thinking of the edition, not condition. 10% more damage does not mean their book is worth 10% less, it may be 50% less or even worthless.
Value is not simply that a book is a rare first edition, but that its of investment standard condition and in demand. As a specialist, we only deal in the best condition examples, those that no one else has, not those that everyone else has. Sometimes when new copies come on the market, we raise our prices as we know ours is in better condition. Rare book prices are driven by collectors with a passion to have the finest condition example and are willing to push prices to new high levels. A rare item is worth what someone is willing to pay, not by some guide book of values.
It is only by studying the market over time you come to know a particular copy, even with wear, is likely to be the best that will come along, maybe ever? Some books are becoming truly rare. Over time, collectors upgrade to better copies and sell off their more worn copies, meaning the average condition of those new ones coming on an active market is declining. Tolkien, The Hobbit, 1937, 1st Edition, 2nd Imp. With Original Jacket" is in sale since Friday, September 25, 2020. This item is in the category "Books, Comics & Magazines\Antiquarian & Collectable". The seller is "dogfark" and is located in Machynlleth. This item can be shipped worldwide.
Year Printed: 1937
Modified Item: No
Country/Region of Manufacture: United Kingdom
Original/Reproduction: Original
Condition: Used
Title/Series: The Hobbit
Author: J. Tolkien
Publication Year: 1937
Original/Facsimile: Original
Format: Hardback w/Jacket
Place of Publication: London
Special Attributes: With Dust Jacket